"Wildalpen, a moment of pureness"
Claranor has been selected by WILDALP for the sterilization of its packaging; the solution for decontaminating cap by pulsed light perfectly meets the requirements for purity and naturalness of their water source.
Located in the heart of the Alps in Austria, Wildalp is an entirely natural brand of untreated water. Its premium quality is based on the purity of its source. 85% of Wildalpen's water is exported, mainly to Germany, central and eastern Europe and Asia (Hong Kong, China, Korea).
In order to preserve the purity of the water, the water is bottled directly at the source, allowing it to conserve its origin, its natural energy and its unique characteristics developed during its long journey in the Alps.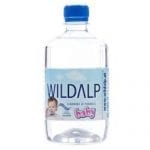 In 2014, Wildalp launched a range of drinks dedicated to children, based on natural spring water.
After choosing the cap, Aptar sports cap – 28 mm, they were looking for a sterilization solution that would adapt not only to their production size but also to their quality standards, while respecting their precious environment.
Wildalpen chose the Claranor pulsed light decontamination system because it achieves the same efficiency in terms of microbiological reduction as chemical disinfection, but offers the advantage of being without environmental risks – no risk of contamination of the source .
As Stefan C. Hacker, Managing Director of Wildalpen Wasserverwertyngs Gmbh explains,
"Claranor pulsed light helped us create the product with these sport caps. The sterilization of the cap by pulsed light guarantees a high level of product safety and avoids sensory impacts on the product itself. The process is clean and the reduced annual costs are a real advantage. We are fully satisfied with our solution."
You want to know more about our sterilization solutions dedicated to bottled waters or discuss one of your projects with our team?