MACHINE INNOVATIONS
As in previous years, Claranor will be present at the PACK EXPO Las Vegas show to present its latest innovations in pulsed light decontamination.
This year Claranor presented its first application for films. A solution already installed in Israel at Tnuva, a subsidiary of the Bright Food group, based in Shanghai.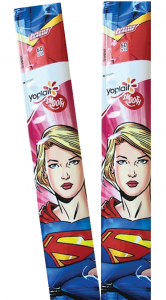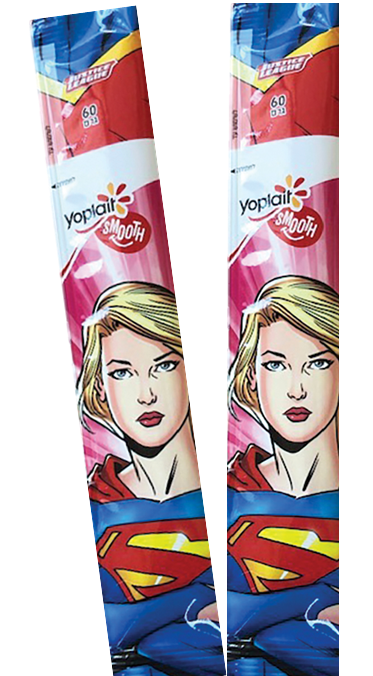 Claranor's previous applications concerned preformed or FFS cups, caps and preform and bottle necks, metal can.
But the Tnuva packaging (see attached visual) is a stick-pack tube sealed on three sides, of Yoplait brand yogurt, produced by Tnuva on an ESL machine with Alfa reciprocating movement from Universal Pack, which also exhibited at PACK EXPO of Las Vegas. The 60 g packages have a refrigerated shelf life of 30 days.
The Claranor flexible packaging decontamination unit, integrated into the Alfa machine, makes it possible to achieve 4 Log reduction of Aspergillus brasiliensis, a fungus which causes "black mold" contamination on food. According to Pietro Donati of Universal Pack, this is the first time that his company has installed a machine that uses pulsed light for decontamination. Why opt for this technology compared to those used more generally such as peracetic acid or hydrogen peroxide or UV-C (irradiation with ultraviolet rays)?
"The Claranor solution is more effective in killing bacteria than UV-C and its total cost of ownership is more attractive. In addition, it's great to not have to worry about a residual chemical on the packaging material, "says Donati.
Of course, there are limits to the log reduction you can achieve, as well as rate limits. In this case, a reduction of 4 log is sufficient, the line rates are low to moderate, and the refrigerated shelf life is 30 days: the Claranor pulsed light is perfectly suitable. "
Tnuva's Alfa Stick Pack machine is a 3-track machine, the 240 mm wide flexible film is made of 12 micron polyester / 12 micron polypropylene / 50 micron PE. It operates at 30 to 40 cycles / min, or 90 to 120 sticks / min
Christophe Riedel, CEO of Claranor explains that the two key advantages that attract food businesses to Claranor pulsed light solutions compared to UV-C solutions are the total cost of ownership (TCO) and the more efficient elimination of micro- organisms that cause product spoilage.
He explains that food companies also prefer it to hydrogen peroxide and peracetic acid because it does not contain chemicals. Studies carried out by Claranor, adds Christophe Riedel, show that the TCO for pulsed light is considerably lower than UV-C or chemical decontamination. Pulsed light is particularly advantageous in terms of energy consumption, notes Christophe Riedel. He explains that the Claranor solution also has the lowest carbon dioxide emissions among the decontamination technologies available today – an increasingly important consideration, especially in Europe