300 Claranor cap sterilization units already sold in the word,
100th machine on the bottled water market deliver today!
The global bottled water market driven by health concerns will continue to grow and reach USD 334 billion by 2023. Environmental concerns regarding the packaging is now a major topic. Still water is the largest category of bottled water, accounting for more than 65% of the demand.
In Europe and in the EMEA the market is expected to grow annually by 3.4% (CAGR 2020-2023),
in the USA by 5.4 % and by 9.8% in Asia-Pacific,
in France it is 4.8 billion and has increased by 2.1% (2018-2025) (sources: Acumen Research and Consulting, Statista Market Forecast)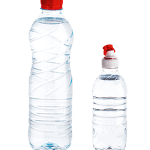 100 Claranor machines on the water market are in operation in 22 countries!
Mainly cap decontaminating machines, flat or sport cap, but also Puls'Combi solutions offering decontamination of the cap and the preform neck. Our equipment has been installed on new lines but also during renovations of bottling lines, in partnership with many equipment manufacturers or directly by our technicians.
The growth of this market is linked, in emerging countries, to raising awareness of health risks due to consumption of non-potable water; in developed countries, awareness of the risks linked to excessive consumption of sugary drinks.
As soon as the water needs a demineralization or reverse osmosis treatment – which is the case in all countries where the water does not come from natural sources but is drawn from the soil, its natural microbial balance is affected. The germs contained in the packaging no longer have to compete with the original flora which has been eliminated, they can grow!
Sterilization of the packaging is then necessary.
For speeds below 16,000 bph Claranor Essential
A solution that combines the efficiency of pulsed light with an attractive TCO, compared to existing UV solutions on the market. A solution also well suited to large containers such as 5 Gallons which give water increased sensitivity.
For speeds up to 100,000 bph, much in demand in Asia, Claranor High speed
A patented solution that allows the replacement of chemical disinfection, UV solutions having no effectiveness at these speeds, thus offering a solution without risk of chemical residues in the product and respectful of the environment – without effluents to manage.
For even more sensitive waters: a Puls'Full Cap solution
This Claranor pulsed light sterilization solution allows the decontamination of the 2 faces of the caps, thus avoiding any risk of cross contamination. Puls'Full Cap is a very compact and economical alternative to H202 tunnels.
You want to know more about our solutions dedicated to bottled water or discuss one of your projects with our team?