Claranor in Poland !
Poland's food processing industry is the largest in Central and Eastern Europe and the seventh-largest in the European Union (EU), with factories, often pilot for multinational firms.
Food and beverage sectors are investing in modernization and are looking for innovative solutions such as Claranor offering cost-efficiency and sustainability.
The trend towards a more environmentally conscious food supply places Claranor at the top of the list for packaging sterilization choices in the food industry. Already around 20 Claranor decontamination equipment running in Poland.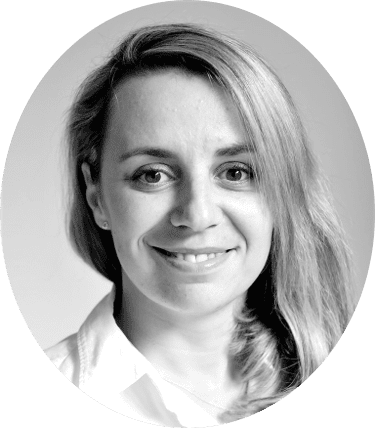 Your contacts for the Poland market
Anna Moutier-Piatkowska is in charge of the development of the Polish market, she works closely with Grzegorz Wróblewski from BHZ our local representative. They are your privileged partners.
Any questions about packaging sterilization or Pulsed Light, please contact them!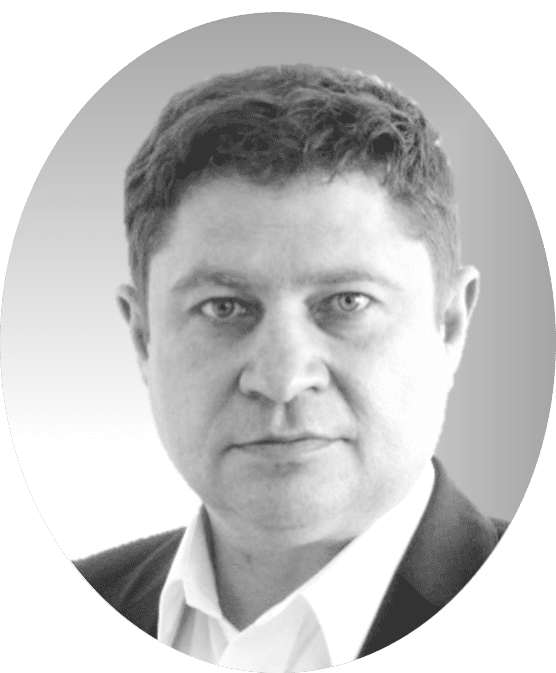 To date, there are about ten Claranor machines installed in Poland dedicated to the sterilization by pulsed light of packaging for sauces and especially ketchup.
Since 2019, several sauce giants have been using Claranor as a solution to decontaminate their packaging before cold filling. The powerful flashes of the pulsed light destroy bacteria and moulds.
2018 : 1 line – cup and film decontamination
2019 : 2 new lines – film's decontamination – client specifications: 3 log reduction on Aspergillus brasiliensis
2019 : 2 new lines of 41 mm x 42.5 mm plastic caps, decontamination at 12,000 bph
2019: retrofitted line for plastic caps with 44mm x 42.5 mm aluminum liner at speed rate of 6,000 bph
2020 : retrofitted line – film decontamination – client requirement: 3 log reduction and output of 6 000 bph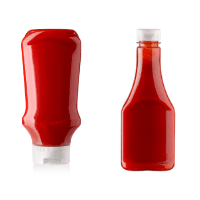 Manufacturers of pasteurized acid products are more and more numerous to chose the sterilization of their packaging (caps, sticks …) by Claranor pulsed light, because it allows them to produce increasingly natural products, without preservatives, stored at room temperature and filled hot or cold.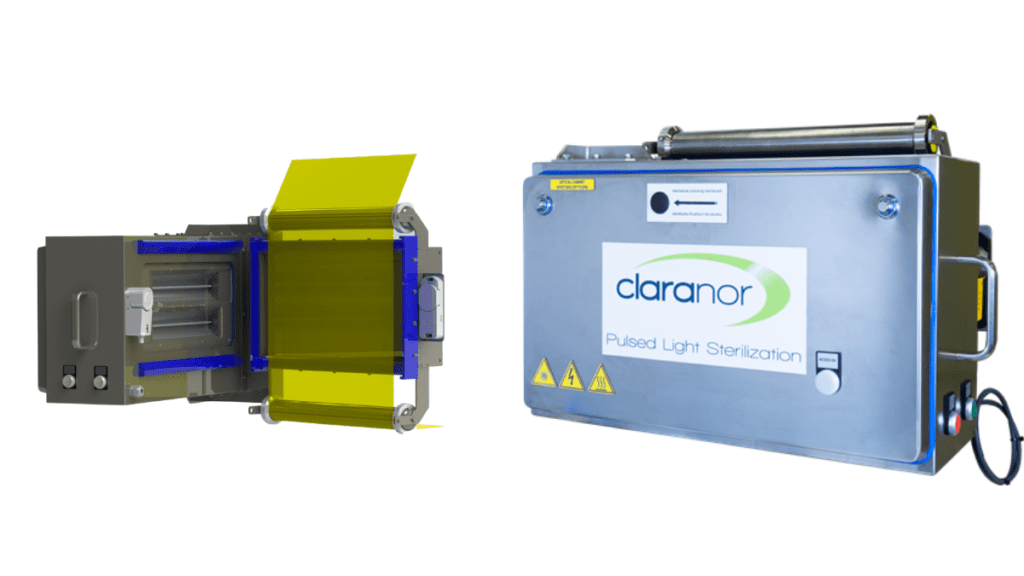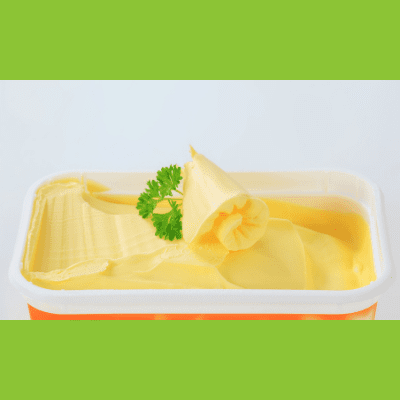 In 2020 a famous dairy alternative producer called twice on Claranor, he now uses pulsed light to decontaminate its packaging for margarine. The Claranor cabinets are installed on 2 lines both retrofitted. One of the cabinets decontaminates plastic films for a 3 log reduction while the other one is located on a 120 mm x 150 mm plastic tubs / tubs line on a 60 strokes / min. line.
The Claranor pulsed light offers sterilization without risk of chemical residue in the packaging (tubs and heat seals) and preserves the quality of sensitive products such as lighter products, which are more sensitive due to their high water content. More information on Claranor equipment adapted to plant-based market.
Two news equipment will be installed in 2021 on tubs and film lines.
Water and Sensitive drinks
The first equipment integrated by Claranor in Poland was for a sensitive drink filling line, in 2011, a cap decontamination unit installed on a new line of a famous OEM. Flat and sports cap 28 mm and 38 Speed-line rate: 40 000 bph.
Since in 2018, another famous equipment manufacturer has been using Claranor pulsed light to decontaminate 30.4/31.5 mm x 15.25/15.4 mm plastic caps on a retrofitted water bottle production line. Claranor adapts to the line and its output, here it is 31,500 bph.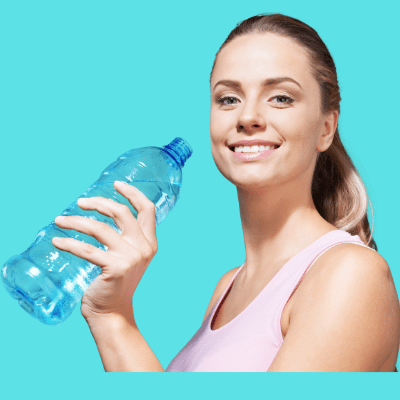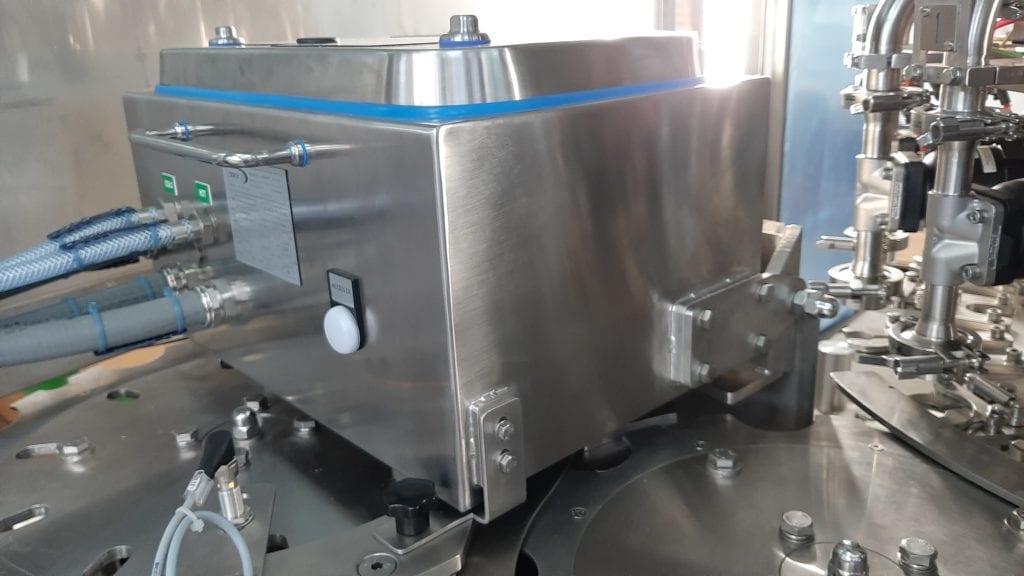 In 2020, a famous water producer integrated Claranor Pulsed light equipment
to sterilize bottlenecks.
Claranor preserves the organoleptic properties of your water and its source, no neoformed disinfectant residue in the packaging, and allows the reduction or elimination of ozone. The Claranor packaging sterilization process is suitable for both small and large containers (up to 5 gallons), cap (internal, or both sides of the cap sterilization), aluminum foil, and bottleneck.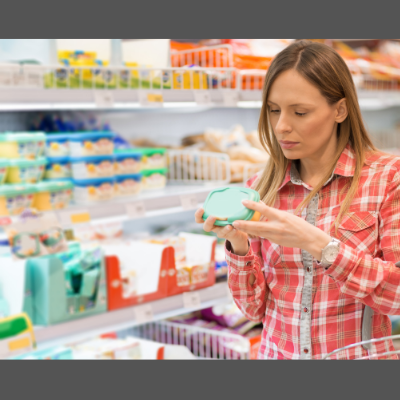 This year 2020 was also the occasion for a famous equipment manufacturer specialized in dairy products to trust again in the power of Claranor technology. The Claranor pulsed light was therefore installed on a new line to sterilize plastic caps measuring 40 mm x 10.5 mm of dairy products on a line with an average output of 30,000 bph.
Since 2012 this famous manufacturer trusts the Claranor technology and has therefore decided to call on us again. Indeed, after having tested and approved our Pulsed Light packaging sterilization equipment, the choice was obvious.
Dairy packaging sterilization excludes any risk of chemical residues and offers a compact sterilization solution that can be integrated into line retrofits. It is also much more effective than UVC treatment on moulds (Comparative test results LP vs UVC on request).
A cost attractive solution compared to chemical solutions with only 3 kW for 30,000 cph.
BHZ, YOUR PARTNER IN POLAND
BHZ is our exclusive representative for Poland.
Grzegorz Wroblewski and his team are your privileged contacts. They will give you all the information on our equipment and innovations in the field of pulsed light packaging sterilization: cup, cap, metal can or film can now benefit from our solutions.
The BHZ team will also provide for Claranor: commissioning, maintenance, spare parts and service support.
If you have a sterilization project in Poland
BHZ, our distributor on site, will be happy to discuss this with you