Efficient, ecological, and economical decontamination solutions!
Anuga FoodTec, thank you for your visit
Anna, Isabelle, Anthony, Benjamin, Christophe, and the Claranor team, thank you for coming to meet us during the Anuga FoodTec trade fair that took place in Cologne, Germany. On this occasion, we were given the opportunity to show our Claranor Pulsed Light packaging sterilization innovation and successful partnerships.
Find out more information on our new range of cap machines, our equipment dedicated to metal can for sweet condensed milk and our innovative collaborations with Primoreels and Synerlink, JUST ONE CLICK AWAY!
New range of cap sterilizers
The trend toward natural products, cold filling, and preservative-free drinks made the beverages and dairy even more sensitive to microbiological contamination.
To support producers in the hygienic upgrades, while improving their sustainable practices, Claranor designed a range of 3 compact and highly efficient cap decontamination machines to be integrated into bottling lines:
INNCAP :
The Claranor Ultra-clean cap decontamination equipment is dedicated to high-speed lines reaching a speed up to 120 000 bph. Working on all types and sizes of caps, it is the only one on the market to offer such efficiency with that speed.
ESSENTIAL:
A cost-attractive solution, suitable on low or medium speed lines with a speed up to 16 000 bph. It offers the efficiency and low operating costs of Claranor Pulsed Light to producers of slower filling lines, with higher efficiency than UV and lowers TCO.
FULLCAP:
Perfect for sports caps as well as flat caps, it decontaminates the internal and external surface of the cap with a high speed of up to 60 000 bph, it ensures an ESL > 60 days. Compact, and economical, it's an excellent alternative to H2O2 tunnels: for the most sensitive refrigerated products, and even for the acid aseptic.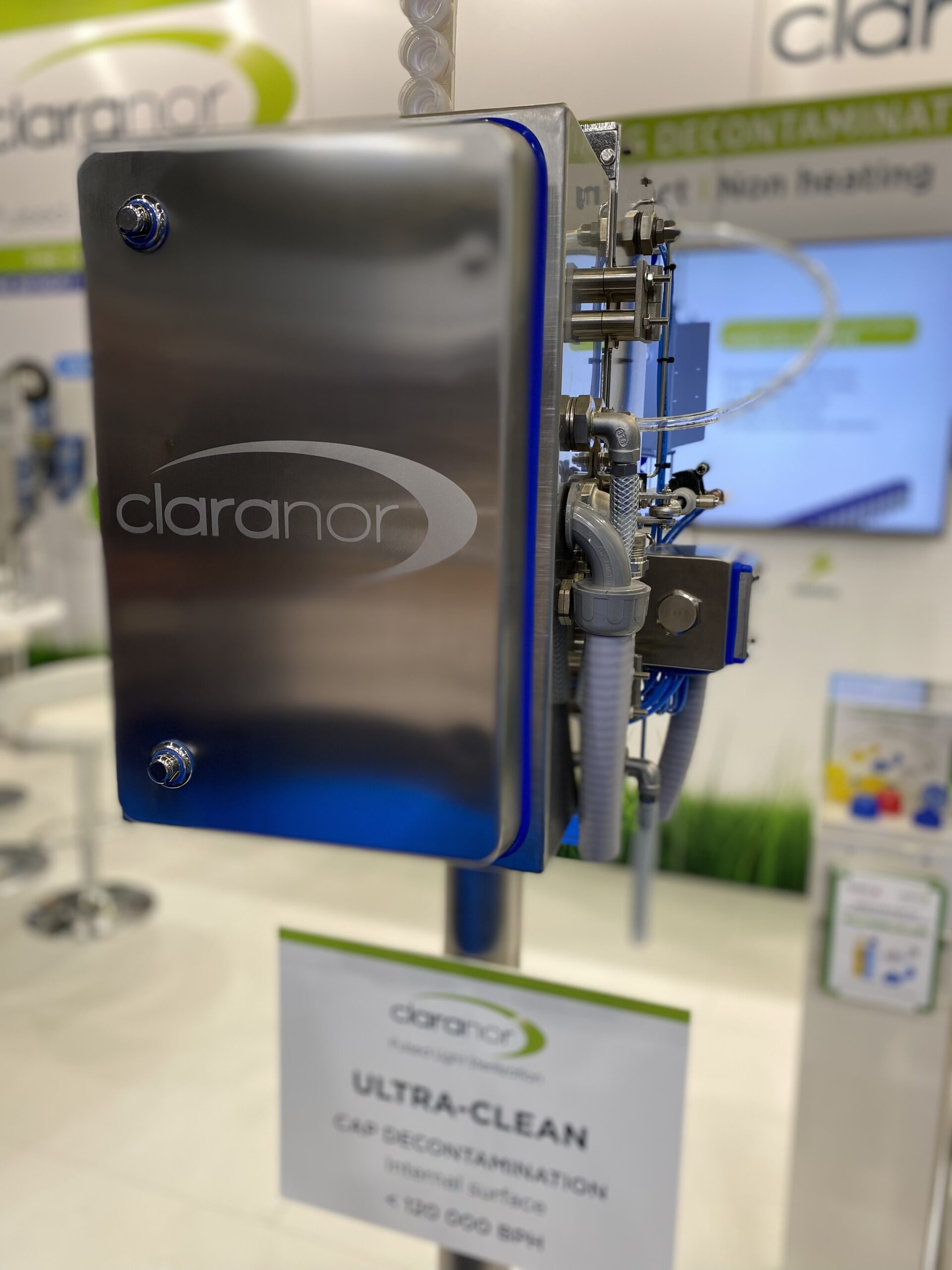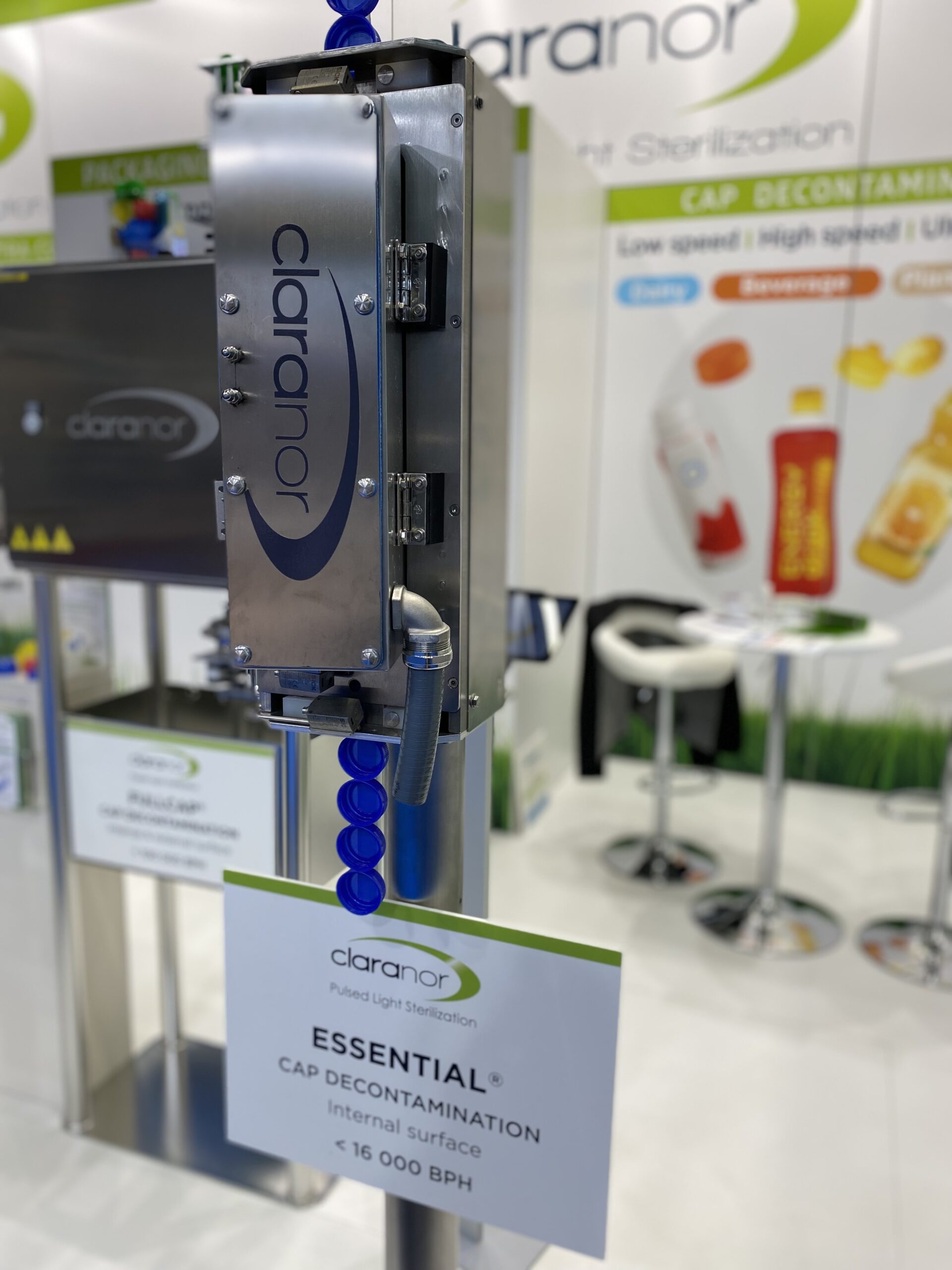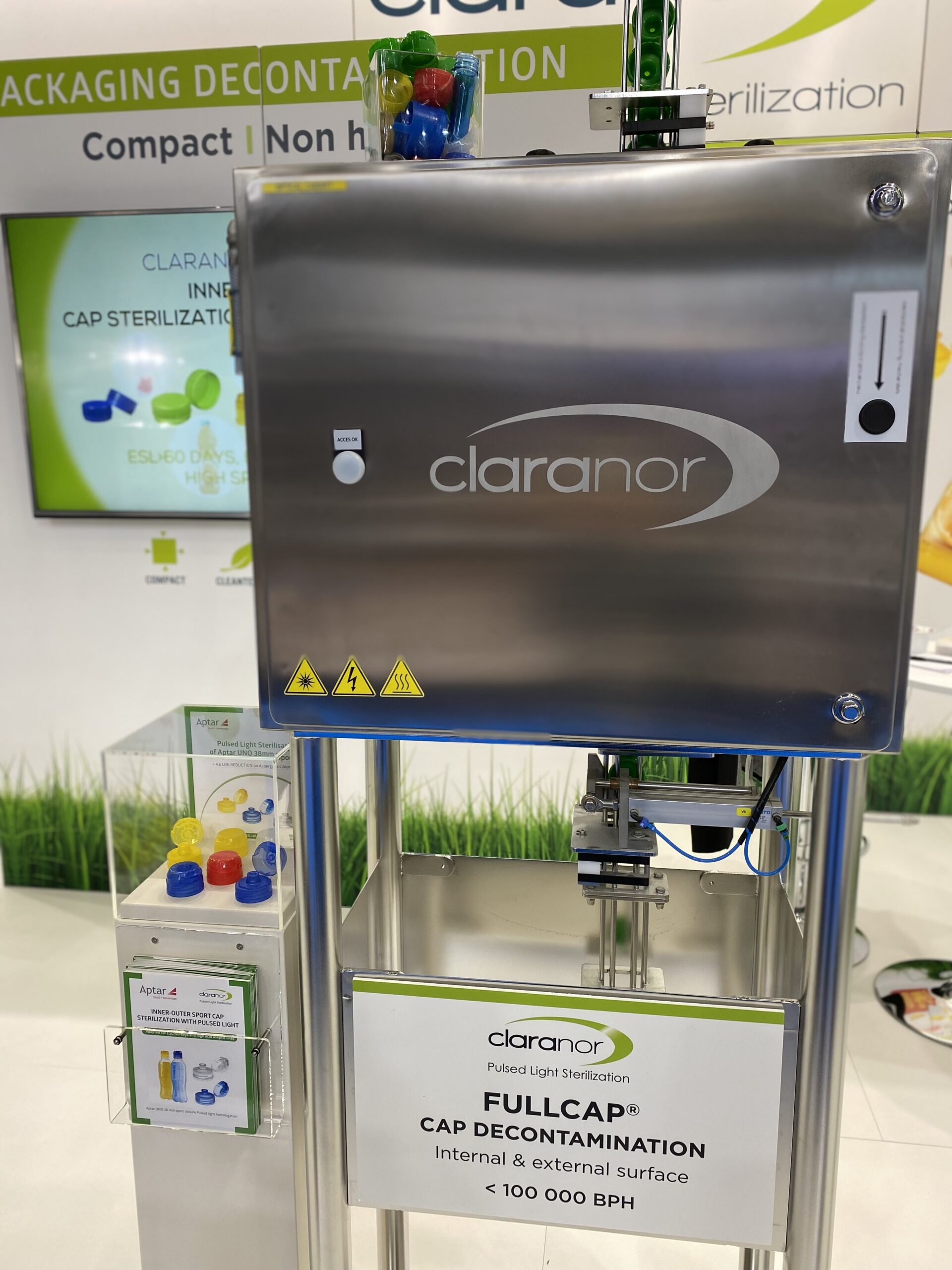 Learn more about our cap decontamination solutions!
We collaborated with APTAR, world leader in the dispensing systems industry, for the decontamination by Pulsed Light of their Aptar'Uno sport closure. Decontaminated by our FULLCAP® Pulsed Light treatment offers a chemical-free aseptic sterilization process well adapted to preservative-free and sensitive beverages such as energy drinks, sports and performance drinks, fortified fruit drinks and enhanced water :
The Metal can & lid decontamination equipment presented by our team!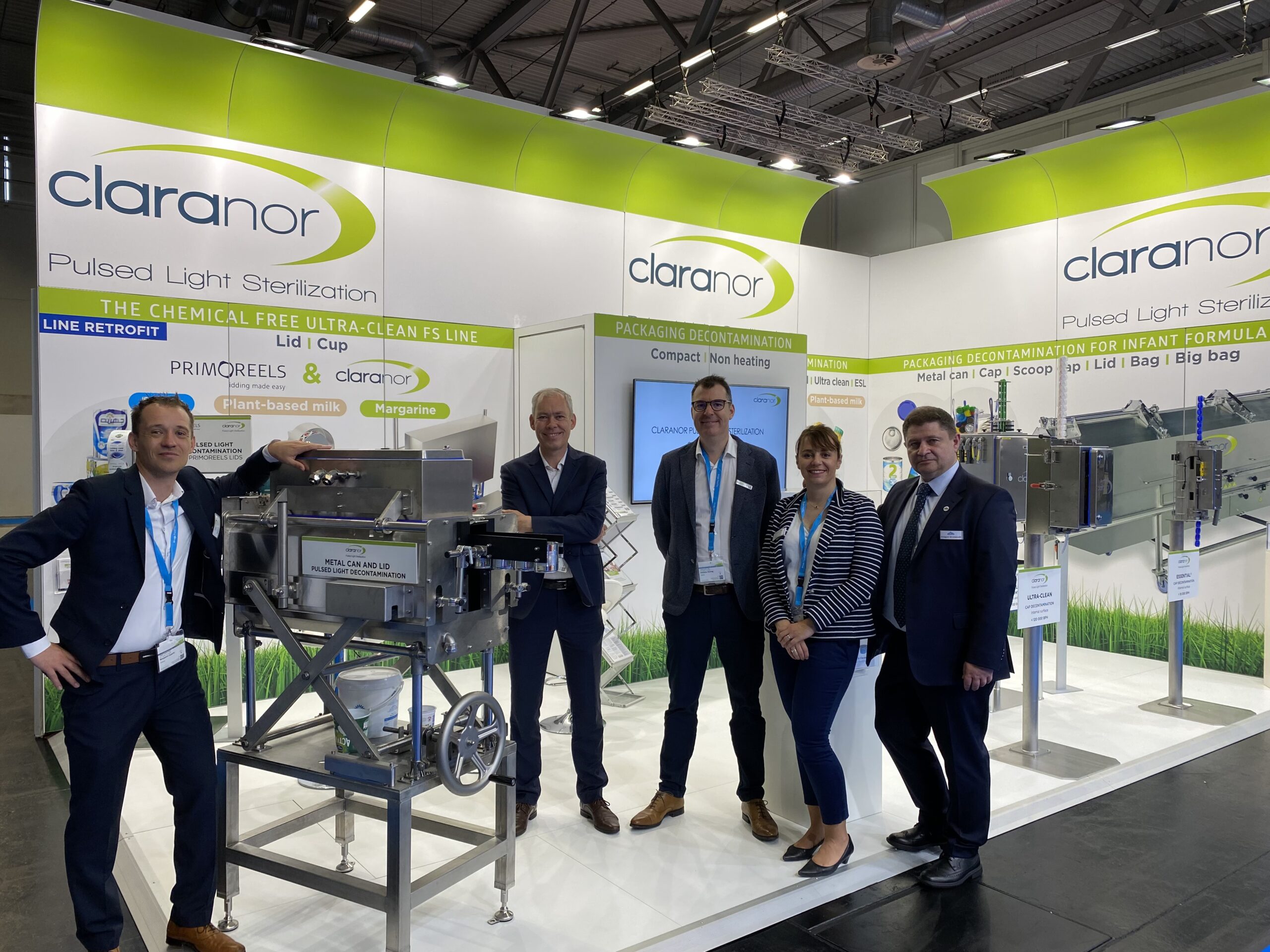 Claranor offers a global solution to decontaminate your infant formula or sweetened condensed milk packaging: metal, aluminum, or plastic cans, caps, and lids benefit from Claranor decontamination solutions.
Suitable for new and retrofit filling lines, our efficient and tailor-made equipment enables an instant and chemical-free decontamination of cans at low or high speeds, up to 1500 cans/min, or 300 cans/min for infant formula. Also, both sides of the can-end and the lid of the can are decontaminated at the same time to avoid recontamination during restacking.
Its compactness and hygienic design, make the cleanability and the mechanical integration on the filling line easier.
More information on our solutions dedicated to infant milk powder and sweet condensed milk
Primoreels & Claranor, the easy & clean lidding
You missed the live demonstration of our Claranor module into the Primoreels?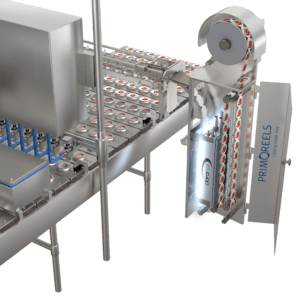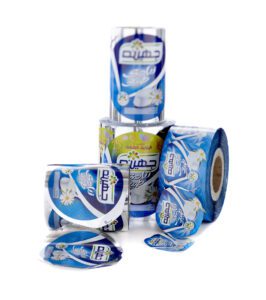 Our partnership with Synerlink
Discover the Synerlink Versatech endless flexibility with native integration of the Claranor cup & lid decontamination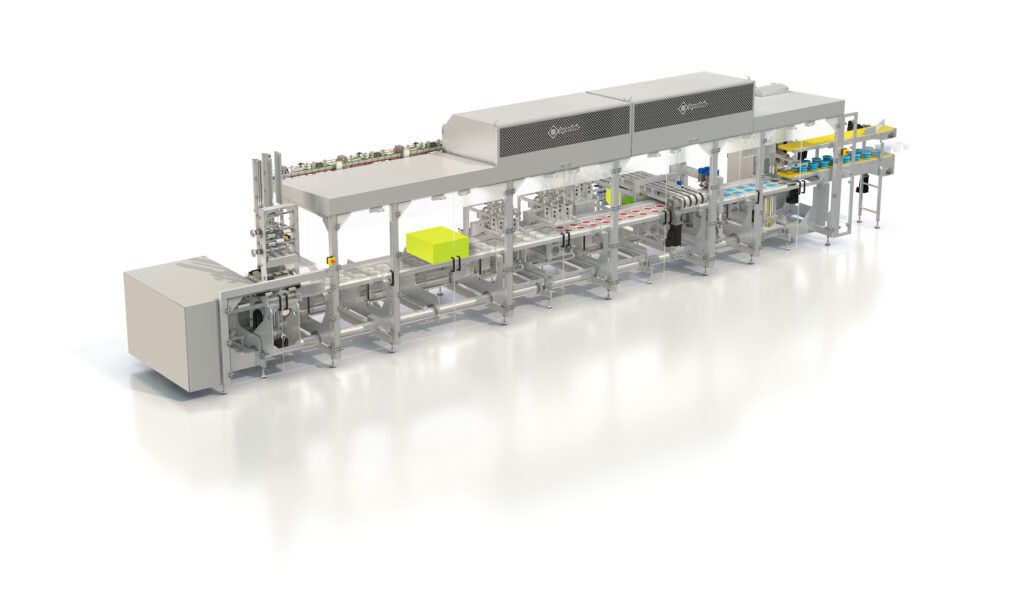 A packaging sterilization project?