Claranor UV decontamination tunnel
Claranor is a reliable partner for efficient packaging decontamination solutions that reconcile economy and ecology. Pioneer and leader in Pulsed Light decontamination for packaging. In 2020, customers asked Claranor to offer UVC systems, understanding that all abilities were present in the company to offer, design, manufacture, install, start up them and assess their decontamination performance. The first UV equipment has been designed: a UV decontamination tunnel.
Avoid cross-contamination risk in entering clean zone area
Several goods like product ingredients and packaging material (pillow bag, 25 kg bag, plastic bin…) have to be decontaminated on their surfaces before entering clean zone areas in order to avoid cross-contamination.
The decontamination with UV in a tunnel allows you to automatize this process in a chemical-free and faster way than with commonly established technologies.
Already 3 UV tunnels installed!
In September 2021, a major producer of infant powder milk ordered 2 Claranor tunnels to decontaminate outer surface of 25kg pillow bag.
Another one has been installed in July 2022, in a cheese factory with the aim of decontaminate several kinds of packaging entering a clean zone area.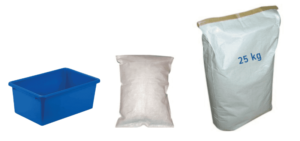 Claranor UV tunnel is a best-in-class quality and safety solution
Decontamination rate: >3 Log reduction on E. coli or C. sakazakii on the flat surface of the bag,
Maxi bag to be treated: 650m width, 900mm long, and 350mm height
Capacity: 12 bags/h
Length (without inlet/ outlet conveyor): 2 650mm
Width: 1 250mm
Options: inlet/ outlet conveyor, dedusting prior to treatment, panel screen/ HMI on both sides
Claranor UV tunnel has many advantages
UV dose monitoring
Hygienic design
Respects product integrity
Operator friendly, easy to operate, clean, and maintain
To be installed at the interface of 2 different hygiene levels rooms
Easy operation synchronization with the production line
Quick accesses for cleaning
Low maintenance and ergonomics access for lamps change

CLARANOR DESIGN ENGINEERING
Claranor design and engineering expertise allows you to benefit from standard equipment customized according to your specifications.
CLARANOR SERVICES
Claranor services provide you with full support: microbiological validation, commissioning, training, and preventive and corrective maintenance.
For additional information about our decontamination solution